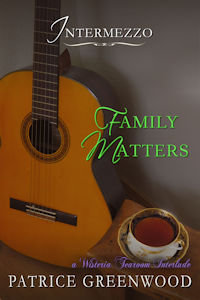 ebook $2.99
117 pages
Between Christmas and New Year's, Ellen Rosings travels a landscape of doubt. Can she and Tony truly forge a permanent relationship, and will their families support or oppose their intention to marry?



Dear Readers – PLEASE NOTE:
This is not a mystery. The next Wisteria Tearoom Mystery will be A Black Place and a White Place, coming out in 2019.
This is not a novel. It's a novella, about a third as long as a novel. That's why it costs less than the novels.
This is not "leftovers." It is not text that was edited out of a novel. It's all original material that is focused on the characters in the series.
Where it fits: this story falls between book 6, As Red as Any Blood, and book 7, A Black Place and a White Place.
Finally, if you have not encountered the Wisteria Tearoom books before, this is not the best one to start with. Any of the mysteries—the full-length novels—is a better choice. Since they're sequential, I recommend starting with book 1, A Fatal Twist of Lemon.
– Patrice Greenwood