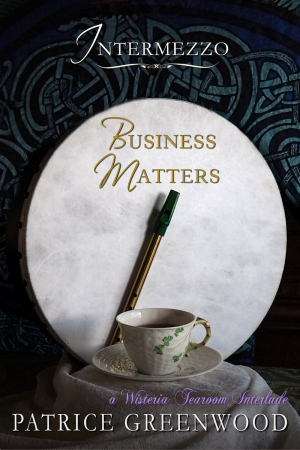 A Wisteria Tearoom Interlude
222 pages
Why is change such a challenge?
As winter gives way to spring, Ellen Rosings's life is in upheaval. She's about to move out of her suite in the Wisteria Tearoom and into the townhome she will share with her fiancé, Tony—if he's ever there. All the tearoom's offices are shifting around like a Chinese puzzle. They need to hire a new manager for the gift shop—and oh, yes, they need another server, too—and what will they do about music for St. Patrick's Day?

Amid these distractions Ellen is hunting for the pistol ball that killed the tearoom's resident ghost, Captain Dusenberry. She is also hunting for the perfect wedding venue, which proves to be a struggle. Friends and family suggest places but they all fall short. Should she settle for less than her dreams? Or can she humbly accept help from an unexpected source to make them come true?

This is a novella, a short companion story to the Wisteria Tearoom Mysteries series. It is NOT a mystery! It is recommended that you read A Valentine for One (book 8) before reading this story.

Purchase print books directly from the publisher – autographs available!
See your favorite online bookstore for ebook editions.