The Wisteria Tearoom is based on a real building, built as officer's quarters for Fort Marcy in the mid-19th century. There were originally eight of these buildings, but the only one that has survived is at 135 Grant Avenue in Santa Fe (the location of the fictional Wisteria Tearoom).
The building does not look the way I've described it, as you can see from the photo above. In my fictional world, the building looks more or less the way it did when it was first built, i.e., a Victorian house made of adobe. In reality, it's had a makeover into Santa Fe Style. The upper story has undergone major modifications, and a room was added to the ground floor as well (right). The front door still has the distinctive "lights" surrounding it.
The building is currently the home of the Georgia O'Keeffe Museum Research Center. They are primarily a research center and library. They have lots of wonderful information about Georgia O'Keeffe and her works. I highly recommend visiting the museum itself, which is around the corner at 217 Johnson Street. Unfortunately, the Research Center does not permit tours of their office building at 135 Grant Avenue.
Below are copies of the front elevation and floor plan of the Wisteria Tearoom, based on those of the original house. These were tidied up by Chris Krohn, and I added the color.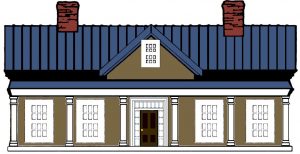 Copyright © 2016 by Patrice Greenwood. All rights reserved.