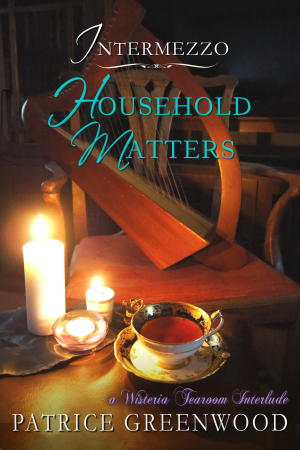 A Wisteria Tearoom Interlude
ebook $2.99
paperback edition coming in March
133 pages
Is this a good idea, or will it be a catastrophe?
A question Ellen Rosings can apply to multiple areas of her life. Revising the Wisteria Tearoom's inner spaces and advancing her investigation into Captain Dusenberry's murder are only a couple of the stops along the way as Ellen contemplates big life changes ahead. She and Tony are looking for a place where they can live together—but complications arise in the form of an unexpected visitor to the tearoom. Will Ellen lose her heart…again?

Dear Readers – PLEASE NOTE:
This is not a mystery. The next Wisteria Tearoom Mystery will be A Valentine for One. Yes, it is in the works. No, I do not know the publication date.
This is not a novel. It's a novella, about a third as long as a novel, yet it is a complete story. It is short and sweet. That's why it costs less than the novels.
This is not "leftovers." It is not text that was edited out of a novel. It's all original material that is focused on the characters in the series.
Where it fits: this story falls between book 7, A Black Place and a White Place, and book 8, A Valentine for One.
Finally, if you have not encountered the Wisteria Tearoom books before, this is not the best one to start with. Any of the mysteries—the full-length novels—is a better choice. Since they're sequential, I recommend starting with book 1, A Fatal Twist of Lemon.
– Patrice Greenwood