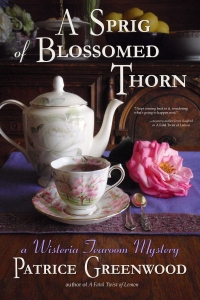 A Sprig of Blossomed Thorn
Summer surrounds the Wisteria Tearoom in the beauty of a lush rose garden. Alas, the death of a venerable member of the Santa Fe Rose Guild in the tearoom's front parlor throws proprietress Ellen Rosings into a morass of doubt and conjecture. Was it murder, or merely misfortune? The more Ellen learns about the inner politics of the Rose Guild, the more she suspects foul play.
Coming June 18, 2013!