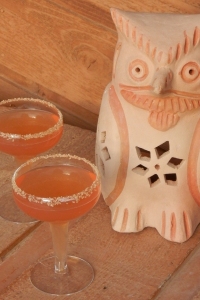 My spouse talked me into entering the Doña Tules (from An Aria of Omens) in a local cocktail contest. Here is a video of the mixologist from Hotel Andaluz making one! The finalists will be announced Friday, August 12, and the grand prize winner will be announced Saturday, August 13, at an event at Hotel Andaluz.
UPDATE August 11: We made it to the finals! Hotel Andaluz has announced four finalists plus the "People's Choice" winner from Facebook, all of whom advance to the final round of judging on Friday night. Doña Tules is one of the finalists! Winner announced Saturday night. How exciting!
UPDATE August 13: Doña Tules is the second runner-up (aka third place) in this contest. I'm quite pleased with that! I even get a prize (a night at the hotel).