My spouse and I recently traveled to San Francisco, and one of our objectives was to take tea. We settled on the Garden Court at the Palace Hotel, a lovely old building in the middle of downtown.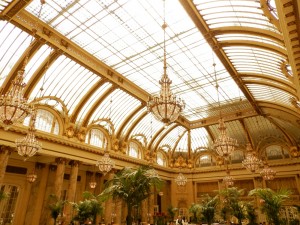 We were there on a weekday, so their full afternoon tea (called their Signature Tea) was not an option. However, we were most pleased with their à la carte teatime menu, which allowed us to choose exactly what we wanted. Here are our selections, minus the raspberry tart which showed up as a finale.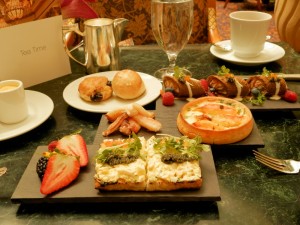 From front to back: we enjoyed Organic Egg Remoulade Sandwiches, Warm Crab Asiago Tart, Smoked Salmon Roulade, and House Made Scones, accompanied by the house Legacy Blend of tea and then Golden Assam tea. The pastry crust on the tart was a bit too sweet for us, but everything else was delightful.