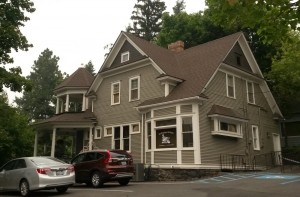 Whenever I travel, I like to take afternoon tea in a new place if the opportunity presents. Last summer I was in Spokane, Washington, and had the pleasure of visiting The Silver Spoon Tea House, a charming establishment in an historic Queen Anne house whose original owner was a colorful businessman in the city's earlier days. The house is delightful, with a veranda that must be lovely on warm days. We took our tea indoors, in a pretty little back room.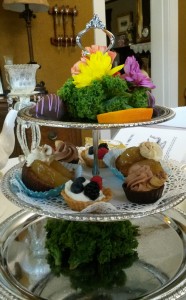 We were so hungry that we had raided the sandwiches from the tea tray before I remembered to photograph it. Take my word for it – they were delicious, as was everything on the tray, and also the fresh-baked lemon scones that we devoured before the tray made its appearance. Though they were American style scones, not British style, they were light and delicious, and I loved the garnish of a curl of sugared fresh lemon. I also loved the addition of fresh fruit to the tea tray, something you don't often see with afternoon tea!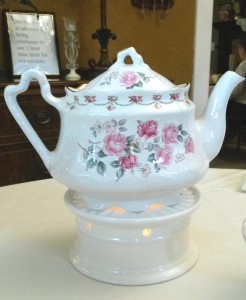 Another innovation (new to me, anyway) was the warming stand for our teapot. I am used to tea cozies, but there was no need for one with this lovely stand, which was fueled by (appropriately) a tea light. It kept the tea hot right to the last drop. I may have to try this at home, as I tend to go through my daily pot of tea rather slowly, and end up reheating the last cup or so.
So if you are ever in Spokane, do try this charming tea house. If you don't have time for afternoon tea (by reservation only), they have a pastry case of delicious goodies, and they also sell sweets, leaf tea, and accessories.