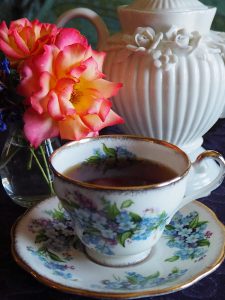 Thank you to everyone who voted in the teacup of the month poll! Here is the winning teacup, the forget-me-nots, filled with Irish Breakfast tea which I immediately drank (with milk and sugar) after taking this photo, because it's that kind of day. The flowers are from my garden.
I am, by the way, having a great deal of fun writing a new Intermezzo for you, and creating some special treats to go along with it. More news about that soon.
Enjoy your July, the peak of summer! Autumn will come before we know it.
If you'd like to vote for my teacup next month, make sure you're signed up for the Teacup of the Month Poll under your newsletter subscription preferences.