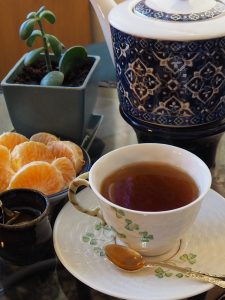 Past years have shown that the only teacup that will do for March is the lovely Belleek shamrock cup. Here it is, then.
Instead of a teacup poll, I asked people which was their favorite Wisteria Tearoom novel. We had some interesting answers, a selection of which appear below. Many people said they couldn't choose, and others said their favorite was the one they'd most recently read, or the first one in the series.
Thank you to everyone who participated!
The voting was:
A Fatal Twist of Lemon – 4
As Red as Any Blood – 3
An Aria of Omens – 2
A Masquerade of Muertos – 2
A Bodkin for the Bride – 1
A Black Place and a White Place – 1
Next month we'll be back to voting for my monthly teacup. If you'd like to vote, just make sure you're signed up for the Teacup of the Month Poll under your subscription preferences.
Here are a selection of the comments from this month's poll:
George Ann said:
"A Fatal Twist of Lemon! Why? It marked the beginning of a wonderful series that makes me look forward to the next …. Thank you!"
Patricia said:
"The first one, A Fatal Twist of Lemon; but I love them all; I have have fondness for the one that started me on the Wisteria tearoom journey!"
Catherine said:
"AS RED AS ANY BLOOD. ****SPOILER****! Enough said."
Annalie said:
"All of them were wonderful however the last one A Black Place and a White Place was a surprise. I didn't expect the ending. I'm patiently waiting for the next story."
Yunelee said:
"The latest one I've read. 🙂 I recently reread A Fatal Twist of Lemon, and I love all the details of starting up the tearoom, from the staff to the delectables, and of course the initially abrasive encounter with Tony gentling into something more intriguing."
Nan said:
"A Fatal Twist of Lemon because it started the whole series off."
Andrea said:
"Too difficult to select my favorite Wisteria Tearoom Mystery. Each new book becomes my favorite as the characters develop more."
Dana said:
"The latest one"
Emme said:
"A Masquerade of Muertos – I enjoyed the reenactment of Edgar Allen Poe's "The Masque of the Red Death." Although I do love them all."
Marina said:
"A Masquerade of Muertos Loved the reenactment of The Red Death and wish I could attend such fabulous party!"
Mary said:
"The one I'm currently reading at any time!"
Cathy said:
"As Red as Any Blood because I enjoyed both the mystery and the interaction between Tony and Ellen. A level of trust evolved which I find makes the mysteries progress better."
Erica said:
"An Aria of Omens. Love the opera and the tailgating."
Flynn said:
"I have no favorite."
Jenny said:
"Oh, I can't choose. I really can't. I love them all. If I must pick just one, it would have to be the first one. Because that's when I first met them all. But I don't want to pick just one. To me they are a unity and can't be divided. "
Marianne said:
"A Fatal Twist of Lemon. Because it's different, it's creative, I just like the idea of creating something new and that is the storyline of this book. "
Roger said:
"An Aria of Omens, because of the good plot."