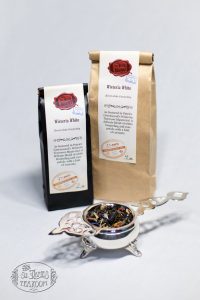 Ever wanted to brew yourself a cup of Wisteria White tea from the Wisteria Tearoom? Now you can! The St. James Tearoom in Albuquerque is the exclusive purveyor of Wisteria White, and they are now offering it for sale online! (Be sure to tell them I sent you!)
Wisteria White is the signature tea of the Wisteria Tearoom, a delicate blend of white Darjeeling and rose petals, with a hint of currants.When I made up that recipe for the books, I had no idea how tricky it would be to blend as a tea. I made some attempts at it, with marginal success, but it was the St. James's professional tea blender who really brought Wisteria White to life.
Enjoy some as you read your favorite Wisteria Tearoom stories!