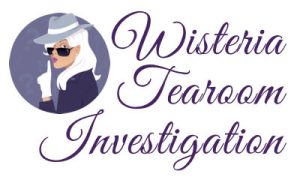 Friday-Sunday, September 29-October 1, 2023
INVESTIGATORS WANTED!
Join Patrice Greenwood for a weekend of exploring and investigating the Santa Fe locations of the Wisteria Tearoom Mysteries!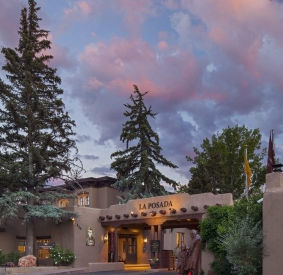 Our headquarters will be the beautiful La Posada de Santa Fe hotel, a luxury resort just two blocks east of the Santa Fe Plaza.
La Posada includes the historic Staab House, a Victorian house of similar era and layout to the Wisteria Tearoom. The Staab House is home to resident ghost Julia Staab, an elegant Santa Fe socialite and matriarch of the prominent Staab family. (Don't worry, she's friendly.) In 1882, Mrs. Staab and her family, including her husband Abraham Staab, built a three-story brick mansion in the French Second Empire-style, which has now been incorporated into La Posada.
Julia's, an excellent restaurant, offers fine dining as well as a beautiful lounge bar in the Staab House. La Posada's amenities include a full-service spa.
Members of the Wisteria Tearoom Investigation will receive a discounted resort fee of $20/day which includes valet parking.
Investigator room rate (one bed): $299/night
Wisteria Tearoom Investigation Agenda
Friday, September 29: Orientation
Arrive in Santa Fe and proceed to La Posada.
7:00 p.m. – Initial Briefing – Join your fellow investigators for introductions and Q&A (light refreshments).
Saturday, September 30: Investigation
9:00 a.m. – Walking tour of Santa Fe – A guided tour of significant sites in the heart of Santa Fe, featuring many locations mentioned in the books and a view of the historic house that is the inspiration for the physical Wisteria Tearoom. Be on the lookout for important clues!
2:00 p.m. – Driving tour to investigate additional key sites, including the 19th century grave of Major Samuel Dusenberry (inspiration for Captain Dusenberry). (Transportation not provided – carpools encouraged.)
4:00 p.m. – Cream Tea in the Staab House Library (tea and scones).
Sunday, October 1: Debriefing
11:00 a.m. – Afternoon Tea at the St. James Tearoom in Albuquerque (60 minute drive from headquarters). This world-class tearoom is the inspiration for the Wisteria Tearoom. A full afternoon tea will be served, and Patrice will read a sample of book 9. (Transportation not provided – carpools encouraged.)
3:00-4:00 p.m. – Patrice will debrief investigators (and sign books) in Julia Staab's personal suite (by appointment – space is limited).
5:00 p.m. – Conclusion: an informal gathering at La Posada (in the bar or on the patio) to review the result of our investigations.
Membership:
Base fee (includes Orientation, tours, and Debriefing): $80 per person
Cream Tea*: add $29 per person
Afternoon Tea at the St. James Tearoom*: add $75 per person regular or vegetarian, $79 per person gluten-free
*limited seating
~ Space is limited ~