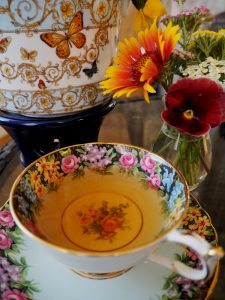 Thank you to everyone who voted in the teacup of the month poll! Here are the results: https://jotpoll.com/result/626304a3d67ed
I used a different poll format this month, so that when you voted, you should have seen the chart at the link above showing the voting so far. Did you like that? Feedback appreciated.
And here is the winning teacup, cheery mixed flowers! Have a wonderful May as we move into summertime!
If you'd like to vote for my teacup next month, make sure you're signed up for the Teacup of the Month Poll under your subscription preferences.