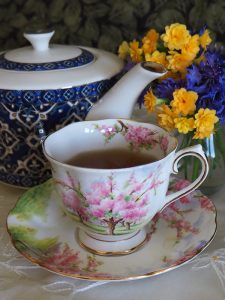 Thank you to everyone who voted in the teacup of the month poll! Both teacups had ardent supporters:
Blossom Time – 79 votes
Pansy Chintz – 65 votes
Here is the winning teacup, the beautiful Blossom Time, filled with Wisteria White tea in honor of the Wisteria Tearoom's anniversary, which takes place in April. Have a beautiful month and enjoy the springtime blossoms!
If you'd like to vote for my teacup next month, just make sure you're signed up for the Teacup of the Month Poll under your subscription preferences.