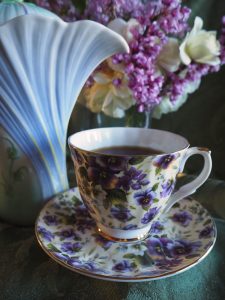 What a difference a month makes! Flowers in bloom everywhere, trees leafed out, and days warming up. I'm really enjoying this time of exceptional garden beauty and lovely weather. I have planted some pansies, as I do every year, and their cheery faces outside my window always make me smile.
Many of you love pansies as well – the pansy cup was the winner this time, though there are plenty of rose-lovers too. Me, I love both. Happy to have this pretty pansy chintz cup as my companion for May.
Enjoy the flowers this month!
---
If you'd like to vote for my teacup next month, make sure you're signed up for the Teacup of the Month Poll under your newsletter subscription preferences.