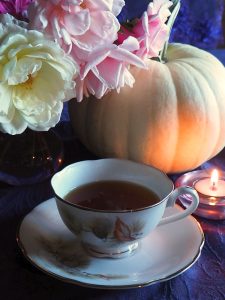 Thank you to everyone who voted in the teacup of the month poll! The winner is the leaf and pine teacup (pattern name Pine Cone), pictured here with roses and a ghost pumpkin. May you have a cozy November!
Looking through all the teacup photos for this year, I wonder if anyone would enjoy a calendar featuring these pictures? What do you think?
If you'd like to vote for my teacup next month, make sure you're signed up for the Teacup of the Month Poll under your newsletter subscription preferences.