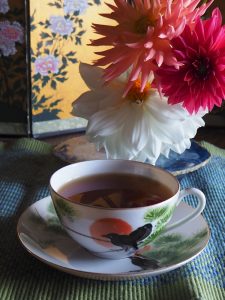 Thank you to everyone who voted in the teacup of the month poll! It was a very close race, and the winner is the Birds teacup, pictured here with some dahlias (the dahlias are continuing to be abundantly beautiful this month). I do not know what kind of birds these are, though for October we might very well consider them to be ravens. Regardless, they are simply splendid.
Have a wonderful, magical October! I think I'll reread A Masquerade of Muertos this month.
If you'd like to vote for my teacup next month, make sure you're signed up for the Teacup of the Month Poll under your newsletter subscription preferences.