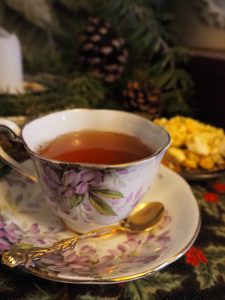 Thank you to everyone who voted in the teacup of the month poll! The winner was the wisteria teacup, and here it is, filled with Darjeeling to accompany a light lunch of egg salad on toast points.
I am enjoying my holiday decor for one more day before I take it down. Happy New Year, all!
The voting was:
Gold chintz – 37 votes
Wisteria – 74 votes
If you'd like to vote for my teacup next month, just make sure you're signed up for the Teacup of the Month Poll under your subscription preferences.